StraighterLine Taps Jeff Mutimer as Chief Growth Officer
WASHINGTON-BALTIMORE (June 13, 2022) — StraighterLine, a platform that offers online courses for college credit and supports over 45,000 new students each year, has named Jeff Mutimer as its chief growth officer to lead sales, service and marketing. Mutimer brings more than 20 years of sales and marketing experience at high-growth organizations including education technology to the StraighterLine leadership team. 
Since its founding in 2008, StraighterLine has provided an alternative model to build the workforce of tomorrow by serving the learners of today. StraighterLine provides thousands of students each year with affordable and flexible postsecondary education courses online that are accepted at more than 2,000 accredited U.S. colleges and universities. These courses are delivered directly through the StraighterLine.com website and through low-risk online pathway programs in partnership with colleges and universities to address enrollment and retention challenges. StraighterLine also partners with employers to deliver flexible, low-cost career pathways that align with in-demand skills.
"At StraighterLine, we believe that education is not an end in itself, but a means of helping learners succeed on a pathway to employability and career success. Jeff is a servant leader and is passionate about making a difference in the lives of students, and a champion for building a better workforce.  I had the opportunity to work with Jeff during our time at CEB, and I can't think of anyone better to join StraighterLine at a time of growth and expansion."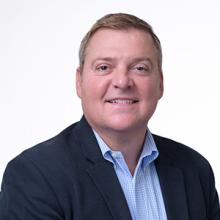 Education has been a primary focus throughout Mutimer's career whether through corporate training or higher education. Before StraighterLine, Mutimer served as the chief revenue officer of Signal Vine, an AI-powered text messaging software for higher education and nonprofit businesses. During his time at Signal Vine, he helped lead the company to a successful exit while managing marketing, sales and account management teams over the course of his tenure. What he was proud of most about his role at Signal Vine was the positive impact his team had on the lives of millions of students along the way.
StraighterLine's mission likewise is centered on helping students succeed. One way StraighterLine does this is through its wraparound support services that include free eTextbooks, live student support, and 24/7 free on-demand tutoring and writing help online.
"I have always been passionate about helping students succeed and providing tools that help level the playing field. As someone who worked full-time while earning my MBA, I appreciated the flexibility to learn on my own time. When I heard about the opportunity StraighterLine gives students to save money on their college education and work on their degree when it works best for them, coupled with the support they need to stay on track — it just made sense. This is a company that cares about the success of a student, and that's a mission I can get behind."
StraighterLine has been on a rapid growth trajectory since May of 2020 when BV Investment Partners, a middle-market private equity firm with experience in the education technology space, recognized the innovation and potential of StraighterLine to meet the demand for efficient and effective online learning offerings, and made a significant investment into the company. In 2020 StraighterLine also expanded into the employer market by partnering with Bright Horizons, an employee benefits company that assists corporations looking to offer affordable, flexible and effective degree and certification pathways to their employees. 2021 marked a year of growth in which StraighterLine increased its workforce by 23% and served over 45,000 new students. In March 2022, StraighterLine welcomed Heather Combs as CEO and under her leadership the company is rapidly adding new university partners and planning to expand its course offerings.
Jeff holds a Master of Business Administration from George Washington University and Bachelor of Arts in International Business and Spanish from Dickinson College. Previously, Jeff has served in marketing leadership roles at Signal Vine, 9Lenses, and CEB (now Gartner), and worked in product management and integration roles at Capital One. He has lived in the Washington, DC area for 20 years with his wife and two sons ages six and three.
###
StraighterLine is a student success company and the category creator for providing scalable solutions to deliver affordable, effective, and accelerated learning pathways to formal degree programs and widely recognized industry credentials. The StraighterLine platform supports over 45,000 new students a year, including directly through the straighterline.com website as well as through the company's growing network of university and employer relationships.