Christine Rowe Joins StraighterLine as New Vice President of People
WASHINGTON-BALTIMORE (July 7, 2022) — StraighterLine, the leading platform offering online courses for college credit, has named Christine Rowe as its first Vice President of People. In this new role, Rowe will be responsible for leading the vision, strategy, development and execution of organizational effectiveness, talent and culture management programs, and leading the human resource functions for StraighterLine. Rowe brings over 30 years of experience in leading human resource programs and initiatives for several companies in the education, workforce, technology, hospitality and healthcare industries.
"StraighterLine is rapidly growing, and people are an essential part of that growth. At StraighterLine we are big believers in helping people succeed; both students and employees. We have a team of incredibly talented people and we want to make sure they have the support and resources they need to start and build meaningful careers. Christine has worked with companies of all sizes to build compelling employee experiences, and we are thrilled to have her on our team."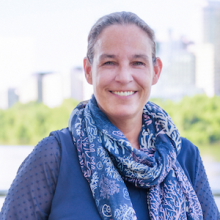 Rowe is an advocate for life-long learning. Early on she wanted to become an elementary education teacher, but it was the study of sociology and her experience working in human resources where she found her stride. Though she changed directions, she never lost her love for coaching, mentoring and training, all of which she says are part of the people function. 
"Business is all about people! Whether it's your employees, your customers, or business partners; people are what make your company great," said Rowe. "When I heard about StraighterLine, I loved the idea of working for a company that had the same passion for people and learning, with innovative ideas to help students succeed."
Rowe personally understands the value of online courses. While working for a training company, she went back to school online to obtain her master's degree in human resources and employee relations at Penn State University.
"I would never have accomplished my master's degree if not for being able to take courses online. With two kids at home, being able to study online, on my time, afforded me the flexibility I needed to complete my degree."
Since its founding in 2008, StraighterLine has provided an alternative model to build the workforce of tomorrow by serving the learners of today. StraighterLine provides thousands of students each year with affordable and flexible postsecondary education courses online that are accepted at more than 2,000 accredited U.S. colleges and universities. These courses are delivered directly through the StraighterLine.com website and through low-risk online pathway programs in partnership with colleges and universities to address enrollment and retention challenges. StraighterLine also partners with employers to deliver flexible, low-cost career pathways that align with in-demand skills.
StraighterLine has been on a rapid growth trajectory since May of 2020 when BV Investment Partners ("BV"), a middle-market private equity firm with experience in the education technology space, recognized the innovation and potential of StraighterLine to meet the demand for efficient and effective online learning offerings, and made a significant investment into the company. In 2020 StraighterLine also expanded into the employer market by partnering with Bright Horizons, an employee benefits company that assists corporations looking to offer affordable, flexible and effective degree and certification pathways to their employees. 2021 marked a year of growth in which StraighterLine increased its workforce by 23% and served over 45,000 new students. In March 2022, StraighterLine welcomed Heather Combs as CEO and under her leadership, the company is rapidly adding new university partners and planning to expand its course offerings.
Rowe holds a Bachelor of Arts in Sociology from University of New Brunswick, an MPS in Human Resources and Employee Relations from Penn State University and an Executive Leadership Certificate from Harvard University. She has served in human resources leadership roles at companies including Curative, Vault Consulting, Upwork, Washington Speakers Bureau, and Learning Tree International. She has lived in the Washington, DC area for 16 years with her husband and their two sons, ages 14 and nine.
###
StraighterLine is a student success company and the category creator for providing scalable solutions to deliver affordable, effective, and accelerated learning pathways to formal degree programs and widely recognized industry credentials. The StraighterLine platform supports over 45,000 new students a year, including directly through the StraighterLine website as well as through the company's growing network of university and employer relationships.