Saint Mary's University of Minnesota Partners with StraighterLine on New Online Pathway for Bachelor's Completion Program
Washington-Baltimore/Winona, MN (Mar. 28, 2022) — Saint Mary's University of Minnesota has partnered with StraighterLine, the leading provider of affordable, online college courses, to create a new pathway for its bachelor completion program. Through this partnership, students can take flexible, low-cost, self-paced online courses through StraighterLine and transfer their credits to complete their degree at Saint Mary's. Students can choose from 60 general education courses in English, mathematics, health sciences, humanities and social sciences, Spanish, and more.
"True to our mission, Saint Mary's remains committed to supporting the emerging needs of today's career-focused adult learners," said Andrea Carroll-Glover, Vice Provost for Online Strategy and Programs. "The partnership with StraighterLine will enable us to continue to make good on our promise to provide high-quality academic coursework that is affordable, flexible, and tailored to suit the needs of a diverse and evolving student population."
Saint Mary's has been accepting credits from StraighterLine for many years prior to the launch of this partnership. Lauran Hundshamer, a 2019 graduate of Saint Mary's, went through the university's bachelor's completion program. She was able to graduate in 18 months and save $20,000 on the cost of her degree by receiving credit for prior learning and successfully completing nine courses through StraighterLine.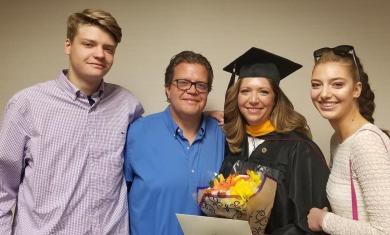 "At 42 years old, I decided to go back to school to finish my bachelor's degree. I only had 24 credits to transfer in from 1997 and needed 122 credits to graduate. If I were in a traditional setting, it would have taken me three or four years to finish as a full-time student," said Hundshamer. "Luckily for me, Saint Mary's bachelor's completion program offered me a non-traditional path."
Hundshamer was able to take StraighterLine courses alongside her courses at Saint Mary's, all while being a full-time working mom.
"I had two kids, both of whom were involved in several sports and activities, and I worked full time," said Hundshamer. "Your degree doesn't need to take you four years to finish. If you have a family or a full-time job, you can still receive an amazing education, and earn your degree on your schedule. I'm living proof of that, thanks to Saint Mary's and StraighterLine."
Hundshamer was such a fan of StraighterLine courses that when a position for director of Partner Marketing opened up, she applied and was hired. Now she gets to share her story with colleges and universities looking to offer their non-traditional students more affordable, flexible options to help them complete their degrees.
Built and managed by educators, the StraighterLine Connect program offers higher education institutions a flexible, affordable way for students to take general education courses that easily transfer via a credit articulation and referral partnership. With no upfront or ongoing costs to the school, partnering with StraighterLine allows schools to allocate their resources where they are needed most. Pathways are specifically tailored to consist of only the course selections that meet the institution's needs. Schools can choose from 60+ American Council on Education (ACE) Credit recommended general education courses.
"Saint Mary's University and StraighterLine share a common goal of helping working professionals and adults return to school to complete their degrees," said StraighterLine CEO Heather Combs. "We look forward to working together to offer flexible and affordable options that meet adult learners where they are, and help them reach their educational goals."
Students who take courses through StraighterLine Connect also receive wraparound support services including free eTextbooks, live student support, and 24/7 free on-demand tutoring and writing help online.
For more information about the bachelor's completion program at Saint Mary's University, visit smumn.edu. Click here to see what courses are available through StraighterLine.
###
About Saint Mary's University of Minnesota
Saint Mary's University of Minnesota awakens, nurtures, and empowers learners to ethical lives of service and leadership. At Saint Mary's, students find in every classroom — whether in person or online — a relationship-driven, person-centered education. Through intense inquiry, students discover the truths in the world and the character within. Founded in 1912 and accredited by the Higher Learning Commission, Saint Mary's University of Minnesota enrolls 4,700 students at its residential undergraduate college in Winona and its Schools of Graduate and Professional Programs, based in Minneapolis with programs offered in Rochester, other locations in Minnesota and Wisconsin and fully online. As a Lasallian Catholic university welcoming all students, Saint Mary's offers respected and affordable programs in a variety of areas leading to bachelor's, bachelor's completion, master's, certificate, specialist, and doctoral degrees, as well as certificates. Learn more at smumn.edu.
About StraighterLine
StraighterLine is a student success company and the category creator for providing scalable solutions to deliver affordable, effective, and accelerated learning pathways to formal degree programs and widely recognized industry credentials. The StraighterLine platform supports over 45,000 new students a year, including directly through the straighterline.com website as well as through the company's growing network of university and employer relationships. Visit straighterline.com or partners.straighterline.com for more information.
Contact
Summer Martin
Director of Brand and PR, StraighterLine
smartin@straighterline.com