Earned Admission: Expanding Access at Utah State University
Image

BALTIMORE, MD (January 31, 2022)—Utah State University (USU) launched its Earned Admissions pathway in September 2020 to guarantee entrance to high school graduates. As part of its goal of being accessible to all, Utah State partnered with StraighterLine to pilot a program that offered prospective students a chance to earn their admission through pre-coursework.
"For students who may be less prepared, the earned admission program is a way to give them a chance to try college without going into debt doing it," said Katie Jo North, Executive Director for Enrollment Services at Utah State. 
Students that do not meet admissions requirements no longer receive a denial letter, but rather are informed of the earned admissions program.
"The last thing a university wants to tell a prospective student is that they are rejected. It doesn't help enrollment numbers and it can discourage a student from applying again," said Burck Smith, founder and CEO of StraighterLine. "By partnering with StraighterLine, USU has been able to create a low-risk pathway forward for future students."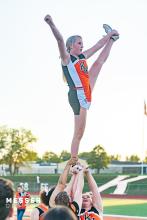 Students pay $125 a month to take classes focused on math, English, and study skills. The three courses are required for earned admission, and students can complete the courses at their own pace. The program also includes access to live tutoring, student advisors, and coaching services. Once students pass the courses, they can enroll at Utah State the next semester.
Timberlin Lackey, an 18-year old from Missouri, moved to Utah with a dream of earning her Bachelor of Science in Nursing. When she visited USU she fell in love with the school. Lackey has completed the USU Earned Admissions program and will be a freshman in fall 2022. 
"The earned admissions program gave me a second chance for this amazing school," said Lackey. "Taking the courses really gave me a step to see what some college courses were going to be like. My goals after I finish college are to either work in trauma or forensic nursing."
Shelby Henney, 26, from Vernal, Utah, is an Elementary Education major who recently completed USU's Earned Admissions program. Henney is a freshman attending part-time with the hope to earn her bachelor's degree and obtain a job teaching third grade.
"After being out of school for so long, it was exactly the refresher that I needed before joining the academic world again," said Henney. "What I liked about the StraighterLine experience was the clear lesson plans with short tests that correlated to the lessons. It started easy and grew to be challenging as you went."
Over 160 students have enrolled in Utah State's Earned Admissions program, and those who complete the program will have a 100 percent admission rate to the university. Of those admitted to date, 63 percent have enrolled or registered at USU for an upcoming term. The success of the program has demonstrated how important this sort of flexibility is for students.
"For us, the partnership has been a huge win," said Rene Eborn, Associate Vice President of Strategic Initiatives and Deputy of Digital Transformation at Utah State.
To read more about the success of the Earned Admission Program at USU, download the full case study.